Upon strolling down the Madison Avenue on the Upper East Side, I came across Fivestory. Located on 18 East 69th Street, this boutique offers multi-brand women's wear from international ready-to-wear designers. Opened five years ago by Claire Distenfeld, this store is hidden between Madison Avenue and Fifth Avenue with an interesting entrance as if walking into a townhouse.
In a neighborhood known for its residents of the upper class and luxury stores, Fivestory is not far from the intention to serve this particular population. The store welcomed me with a doorman opening the doors before me and two sales assistants greeting me. There were no other visitors or buyers in the store, and my first impressions were that the space is beautiful. This is not surprising for the luxury stores that tend to exceptionally decorate their interior, but this was just a boutique and it looked like a small castle filled with apparel. There are two floors in the boutique and the space, although very nice is very tiny, narrow and small.
However, on the hangers and shelves not much clothing and accessories can be found. As I entered the shop, I went down the stairs and was first surrounded by small purses. Then I proceeded through a narrow hall filled with glass shelves, on which sunglasses were placed, into the clothing room, where every piece of garment was on its hanger. The clothing items were spaced close to each other, which in other stores compared to the price of the item would be different, as every item was way over its ''real price''. For example, white T-shirt costs $75. Other clothing items were priced over $1000. I proceeded into the room with shoes, which is at the back of the store, where I found a large mirror and a sink that were a very rich addition to the look of the store. Shoes were beautiful, and flats cost approximately $500.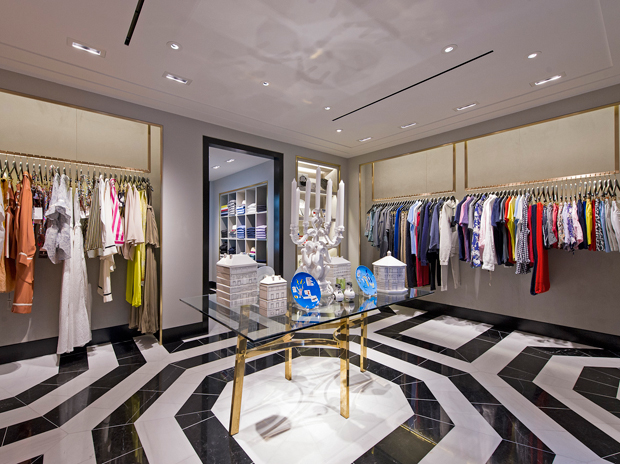 I went up the stairs onto the second floor. There were jewelry and more bags. There was also a nice painting on the wall as well as nice sofa in the room. I went straight in another room, where the dressing gowns and short mink fur coats were displayed. The clothing items had a very nice print and I liked the short mink coat in a pale rose color.
While I was observing the boutique, the sales assistant was following every step I made, so it was really hard to take pictures. This store is intended for any class or race, but according to the prices and luxury, one can certainly assume that most of the customers are of the white upper class. On December 5, 2012, Harper's Bazaar conducted an interview with Claire Distenfeld. When asked if she believes that fashion should be ageless, Claire responded, ''Yes. Whenever somebody asks me who's your demographic, who's your customer, how old are they? I don't understand what that even means. As I said, I've had an aesthetic since I was so young and I think I'm going to have that same mindset until I grow old. It's really a mindset. There's almost a symmetry. Like why do people think that other people are beautiful? Because there's symmetry to their face — there's a symmetry to an outfit when it works — and when it's balanced, you feel it. You feel it like the balance of the Earth.''
While trying to find the store for this project, I called multiple boutiques and had sales assistants hang up phone on me. After visiting Fivestory, I went to Chloé where the saleswomen were, of course, following me around the store, but I could sense they had a prejudice about me, based on whether I will buy a certain item or not. I am really glad that I found Fivestory because among luxury brand stores, it was pleasant to discover a store that offers internationally branded clothing, from people all over the world who try to sell Claire their innovative designs and prints.